Money Laundering Scams
Scammers are using threatening and intimidating tactics to accuse you, your spouse or your bank of money laundering. They ask for money to help clear your name or to help them catch your bank. If you receive a call like this, it's a scam.
This new scam may originate in different ways, but in most cases the scammer finds out where you bank by asking you questions and then they convince you that you, your spouse or your bank are a part of major money laundering scandal and they can help if you give them cash to scan to make sure it is clean and has not been money laundered.
They may even seek your help in catching the bank by asking you to withdraw money from your account for them to review. They assure you they will get the money back to you.
To avoid these types of scams:
Never talk with someone you don't know about where you bank.
Don't give cash to someone you don't know that is demanding you pay them. 
Be careful of scare tactics to cause you to take immediate action because of fear. 
Know that you won't be contacted with claims about your bank participating in money laundering. Banks are heavily regulated and government agencies would contact the bank directly if there are any concerns. 
Don't trust unknown callers. Hang up and immediately contact local law enforcement and your bank to make them aware of the calls 
Fraudsters are making repeated phone calls with an automated message from Amazon trying to verify if a transaction is authorized. When connected to a representative, the fraudster encourages you to download an app on your phone and asks for your personal information and payment information. They also ask that you purchase a gift card to reverse the transactions for you.

Please be diligent.

Don't share your personal or payment information with anyone who contacts you.
Don't purchase gift cards and send them to people you don't know.
Don't let anyone you don't know download apps to your phone or tell you to download apps on your phone.
Hang up immediately. You can report this scam by sending us a message. Please don't include any account information.

If you downloaded the app, please:

Delete it from your phone.
Change your password for your Online Banking/Mobile App.
Lock your debit card from future use using Card Control in Online Banking/Mobile App. 
Sign up for notification alerts on your account. Learn more by clicking here.
Change any passwords on apps that have your personal or financial information in them.
Have your phone scrubbed by a professional in case the fraudsters have access to more information through that app.
Contact our Customer Care Agents to assist you further.
In this particular scam, fraudsters
are sending texts and calling customers posing as our fraud department, disguising their caller ID to make it look like it's coming from the Legend Bank Customer Care phone number (800-873-5604).
If you get a call requesting your personal, private information, including your online banking login ID and password or debit card number and PIN, don't share it, even if the caller says they are verifying fraudulent transactions on your account. 
We will never contact you and request your personal information, including your login ID and password.
Never share this information with anyone that calls you directly. Please immediately hang up and contact us directly, 800-873-5604.
These are VERY sophisticated scams. The fraudsters trick you by providing just enough information to make you think they are legit and that they have access to your account.
They may appear to know:
Partial debit card numbers
Recent transactions
Account balances
Your address and phone number
They will ask:
For your Online Banking username
For your debit card information

Partial card numbers
Expiration date

You to set a new PIN

They'll verify if you have used that PIN previously
They will verify previous PINs
They'll ask you to verify your new PIN

For your Secure Access Code to access your account
You to verify information via text and/or email
How the Scamsters Trick You

Scammers use fear and urgency to trick you into sharing your information with them. They appear to know just enough information to get you to share your online banking credentials, password, debit card PIN and more to access your account.
Remember - We will never contact your and request this type of information. 

Here are some red flags from the American Bankers Association. If you receive a request for this information via email, text or a phone call, consider it a red flag and hang up on the call or delete the text or email. It's better to be safe. Learn more on the American Bankers Association, Banks Never Ask That website.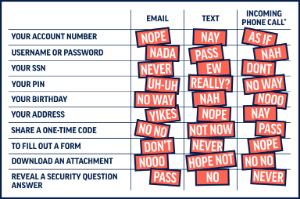 We encourage you to use the following services on your account so that you can be notified about transactions on your account:
Card Control - Know where and when your card is being used and protect it by turning it off if you suspect fraud or if you lose your card. In this particular scam, the fraudster is not targeting your debit card; however if you have alerts turned on you would be notified of any card use, which would allow you to question the suspicious fraud alert text. Learn more about Card Control.
Account Alerts - We encourage you to set up account alerts so that you'll be notified when transactions occur on your account. Once you are logged in to Online Banking you can set up the following types of account alerts:

Security Alerts

Account Alerts

History Alerts

Online Transaction Alerts

Reminder Alerts

 
You can also determine how you'd like to receive your alerts:
Email

Phone Call

Text Message

Secure Message in Online Banking
Banks Never Ask That Scam Awareness 
Every day, thousands of people fall victim to phishing scams. Phishing is a type of scam where criminals make fraudulent emails, phone calls and texts that appear to come from a legitimate bank. Their goal is to trick you into providing confidential information (like account numbers, passwords, PINs, or birthdays) so they can steal your hard-earned dollars.
Learn more and watch the "Banks Never Ask That" scam awareness videos by
clicking here.
Fraud Prevention Tips & Other Scam Information
Visit our
Fraud Prevention page
for tips, resources and information on common scams to help you protect yourself from being a victim. 
Wireless carrier charges may apply. Terms and conditions apply.