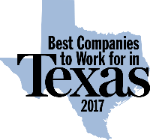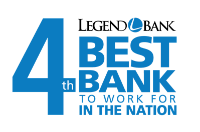 We have proudly served our communities since 1890 and we remain focused on the philosophy that banking is, first and foremost, about the people we serve and that serving others is a privilege. 
In 2017, Legend Bank was named as a #4 Best Bank to Work For in the Nation by the American Banker and the #22 Best Company to Work for in Texas. We are proud of this recognition and are honored that our employees evaluated us with such high regard.
We are looking for employees that take pride in fulfilling the mission to serve others. If you want to connect with your community through our history and legacy, please inquire about a position that would be a good fit for you.
Available Positions
Questions
If you have any questions about our available position or about working for Legend Bank, please contact Jacqueta Moore at jobs@legend.bank. 
Legend Bank is an equal opportunity/affirmative action employer.
Minorities/Women/Protected Veterans/Disabled