Every day, thousands of people fall victim to phishing scams. Phishing is a type of scam where criminals make fraudulent emails, phone calls and texts that appear to come from a legitimate bank. Their goal is to trick you into providing confidential information (like account numbers, passwords, PINs, or birthdays) so they can steal your hard-earned dollars.
Spot the Red Flags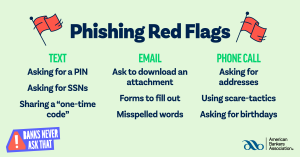 Think that call, text or email might be a trick? Review these red flags from the American Bankers Association, because #BanksNeverAskThat.
Can You Outsmart Online Scammers?
You can also read about common scam red flags, read the FAQ and check out the pro-tips to make sure you spot the "this might be a scam" clues. 
Videos
Click the links below to view the Banks Never Ask That videos.
"Banks Never Ask That" Phishing Scams
Banks Never Text You About Aliens!
Banks Never Text You Looking for Love
Love Fishing? Scammers Love Phishing!
Banks Never Ask You For Relationship Advice
Wireless carrier charges may apply. 
Y
ou will be linking to another website not owned or operated by Legend Bank and we aren't responsible for the content of this website.