Legend Bank's Treasury Management services offer an efficient and effective way to manage your business. You'll receive personal service every step of the way with dedicated Treasury Management experts available as needed.
Remote Deposit Capture allows you to make non-cash deposits from your business without leaving your office.
Positive Pay allows you to save time and money while managing risk, detecting fraud and simplifying account reconciliation. 
Credit Card Processingprovides you the convenience of easily and securely managing your payments and allows your customers the convenience of paying with the swipe of a debit or credit card.

Zero Balance Accounts

grant your business the ability to eliminate excess balances in separate accounts so you can maintain greater control of your overall cash position. 



Combined Account Analysis combines multiple accounts for earnings credit purposes increasing the opportunity for reducing or eliminating your monthly service charge.

Business Online Banking offers you the ability to check balances, pay bills, make transfers and handle stop payments. Advanced features available include wire transfer, ACH origination and transaction history/exports.
Wire Transfers allow you to manage domestic payments quickly and securely online. These services are ideal for handling large-dollar amounts and time-sensitive transactions. The speed, efficiency and convenience of Wire Transfers will help you and your business by allowing you to:

Schedule same day payments.
Set user entitlements with dual control over wire origination, approval and limits.
Use group and template wires for quick initiation of repetitive payments.
Receive incoming wire notifications.
Plus, discounted pricing is available for wire transfers completed online.

CDARS offers multiple benefits to investors who want to combine the security of access to FDIC insurance with the convenience of working directly with just one financial institution. 
®, the Insured Cash Sweep®service, is a smart, secure and convenient way for bank customers to access multi-million-dollar FDIC protection on large deposits, earn a return, and enjoy flexibility. 

Managing a business does not have to be difficult and it's our privilege to help by offering the most advanced products and services. 
Gina Can Help!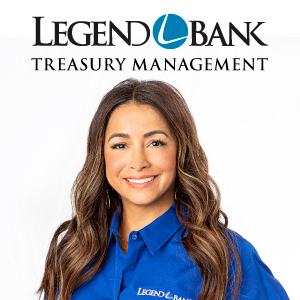 Gina Arriola – Treasury Management Sales, VP

It's our privilege to serve you. Please contact our Treasury Management team for more information.

855-235-7599 |  Email Treasury Management
Wireless carrier charges may apply. Terms and conditions will apply.