This Christmas classic will keep your spirits bright while helping you watch out for scammers and their sneaky tactics to get your money!

Grab a cup of hot cocoa and your favorite Christmas cookies and get ready to watch. 
Don't Let a Scammer Steal Your Christmas!
Unfortunately scams have become a very common way to trick consumers into sharing private, personal information with fraudsters or send money to them.  There are scams in just about every category and puppy scams are a very popular scam!  Don't let a scammer try to steal your Christmas this holiday season. Stay safe from scams with these tips:
Mobile Payment App Scams

Be wary of texts or calls about payment apps
Use payment apps to pay people you know and trust only (like your friends and family)
Raise the alarm on urgent payment requests or requests for additional money if the payment transaction isn't going through
Avoid unusual payment methods
Text Message Scams
Slow down and think before you act 
Don't click links
Never send personal information
Delete the message
Phone Call Scams
Don't rely on caller ID
Never give your personal, private and sensitive information to a caller
Watch out for a false sense of urgency
Hang up, even if it sounds legit
Email Scams

Avoid clicking suspicious links
Watch for scare tactics
Look for attachments and typos
Be skeptical of every email
Think before you click
Click here to learn more
scam awareness tips, tricks, red flags, games, videos and more from the American Bankers Association.
Legend Loves Giving Back

We are partnering with the Wise County Animal Shelter to help find homes for these six dogs this Christmas. Legend Bank is covering the cost of spay/neuter services so that these sweet dogs can find a home at no cost to the person adopting them! If you or someone you know is looking for a dog for Christmas, please consider adopting and contact the Wise County Animal Shelter at 940-627-7577 or
visit their Facebook page.
Animal Shelter Donation Drives
If you want to help, but can't adopt a dog this holiday season, please consider making a donation at any of our branch locations. We are partnering with several shelters in our communities and their needs are included below. Thank you for your support. 
Wise County Animal Shelter
Lucky Paws in Nocona

Disposable gloves
Liquid dawn soap
Bleach/cleaning supplies
Dryer sheets
Lysol/Febreze
Slip leashes
Topical Flea Prevention


Dry Dog/Cat Food
Wet Dog/Puppy Food
Pup-Peroni Dog Treats
10x12 Tarps (Multiples)
Zip Ties
Liquid Dishwashing Soap
Dishwasher Detergent
Clothes Detergent
Paper Towels
Trash Bags (13 & 35gal)
Bungee Cords

Bonham Animal Shelter
Clay County Animal Shelter

Dry/Canned Dog Food
Dry/Canned Cat Food

Dog Treats
Dog Slip Leashes
Topical Flea Prevention
Disposable Gloves
Liquid Dawn
Bleach
Cleaning Supplies
Paper Towels
Dryer Sheets
Lysol/Febreze

Dry/Canned Dog Food
Dry/Canned Cat Food
Dog Treats
Dog/Cat Toys
Dog/Cat Beds
Dog Leashes, Harnesses and Collars
Bleach

Paper Towels
Trash Bags
Disinfecting Wipes

Friends of Bowie Animal Shelter



Dog and cat food wet and dry
Cat litter
Soft treats for dogs and cats

Pup-Peroni treats and Alpo Bones are favorites for dogs

Small beds for cats and dogs
Topical Flea Prevention for cats and dogs
Collars and leashes



Meet the Cast and Crew
Look for your favorite banker, their kids, and a super cute puppy in this year's video.
Mom: Jody Andrews, Application Manager, VP
Dad: Jeff Brooks, Chief Lending Officer, EVP
Scammer: Keith Pace, Sr. Credit Officer, SVP
Scam Detector: Chris Simpson, Loss Prevention Manager, SVP
Bank Loss Prevention: Sarah Segura, Loss Prevention Officer, and Jody Peek, Loss Prevention Specialist II

Santa: John Lee, Chief Credit Officer, EVP
Puppy: Belle
Legend Bank Family:

Brennan Williams, Decatur Branch President, SVP, with wife Andria & kiddos: Delainey, Dally, and Deacon
Lois Harris, Special Assets Representative, AVP
Amanda Baker, Executive Assistant, with daughters Emma and Sophia
Vanessa Moreno, Human Resources Specialist, with daughter Natalie
Kristy Johnson, Compliance Analyst
Les Bankhead, BSA Analyst II, AVP
Jeff Slade, IT Support Manager, VP 
James Jeffers, Credit Analyst
Evan Hughes, Credit Analysis Officer, VP, with daughter Presley
Tammy Fulfer, Training Director, VP
Jacqueta Moore, Human Resource Director, SVP, with son Leighton
Tristan Butcher, Marketing Analyst
Kallie Bilby, Decatur Branch Manager, AVP, with kiddos Jayden, Lovie, and Kylie
Tonya Gilbert, Application Support Specialist 
Kimber & Logan Hill
Jody Andrews
Keith Pace

Announcer: Evan Hughes
Decorating Crew: Santana Gilreath, Compliance Officer, SVP, Amanda Baker, Vanessa Moreno, Kristy Johnson and Les Bankhead
Cinematographer & Film Editor: Jack Enright, IT Support Specialist
Film Director: Randi Mitchell, Marketing Director, VP
Title Designer & Graphics: Rebecca Ryan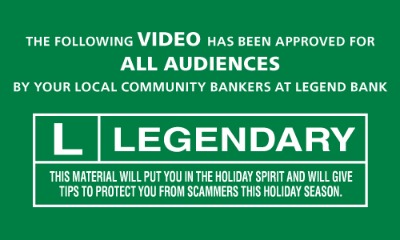 Wireless carrier charges may apply.