To fulfill the promise of Americans with Disabilities Act, ensuring people with disabilities have equal opportunity to participate in the many services provided from the Legend Bank website, we have adopted a leading-edge Web Accessibility solution called AudioEye.
AudioEye Tools Now Available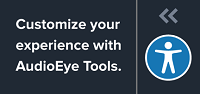 We have implemented the new AudioEye accessibility tools on our web site.
You will notice the AudioEye icon in the bottom right section of our website. Once you click it, you will see the accessibility toolbar. Over the next few months, access to our site will continue to improve as we introduce new tools through this toolbar so that users can customize how they experience our website. 
What is Web Accessibility and Why is it important?
When not coded properly, websites can be difficult or impossible to access by people that rely on assistive technologies to navigate the digital world. Websites must be designed and developed in a manner that accommodates users with diverse abilities - in a manner that focuses on user-first, universal design principles.
In the same sense that a building must provide certain physical accommodations - ramps, rails, wide doorways, elevators - websites should provide accommodations in the digital space.

We have partnered with AudioEye to provide tools on our website to make it more accessible to those that rely on assistive technologies to navigate the digital world. This solution aims to improve the usability of the web – providing everyone with an optimal, customizable, and fully inclusive digital experience.
First and foremost, the AudioEye technology helps ensure that our legend-bank.com website is optimized to provide an accessible user experience by conforming to WCAG 2.0 Level AA. In addition, the AudioEye technology includes a toolbar, which includes a suite of free assistive web personalization utilities that allow our users to customize their user experience.
If you have any questions regarding the accessibility of our site, you now have access to the AudioEye Help Desk and can easily submit inquiries directly to AudioEye.