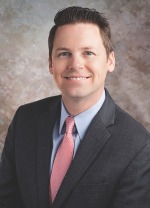 Sherman, Texas (June 1, 2020)—Independent Banker magazine, the award-winning monthly publication of the Independent Community Bankers of America® (ICBA), today unveiled its annual 40 Under 40: Emerging Community Bank Leaders list. The award recognizes the nation's up-and-coming community bank innovators and influencers who represent the future of the industry. Matt Brown, Sherman Branch President, SVP at Legend Bank is named to the list.
"From CEOs to compliance officers, branch managers, lenders and marketers, this annual award continues to uncover extraordinary talent within the community banking industry," ICBA President and CEO Rebeca Romero Rainey said. "We congratulate Matt Brown on this well-deserved honor. His deep belief in the community bank business model and passion for supporting his customers and communities, especially in this COVID-19 environment where community bankers continue to step up to serve the needs of customers, should be commended." 
The feature story, which is included in the newly released June issue, highlights how the 40 Under 40 honorees have overcome challenges and answered calls for innovation. The leaders also share their philosophies on leadership and where they see big opportunities for lending. Chosen from hundreds of entries, candidates were judged on the following criteria: character, leadership, community involvement, and innovation. Bank technology services provider FIS, of Jacksonville, Fla., sponsored this year's program.
"I'm honored to have been named to ICBA Independent Banker's 40 Under 40: Emerging Community Bank Leaders list," Matt Brown, Legend Bank Sherman Branch President, SVP said. "Community banks, like Legend Bank, are an integral part of the areas we serve. We help our communities grow by providing expertise and knowledge, but also by volunteering time and resources. Being a community banker is so important to me and I'm thankful for the opportunities I've had to make an impact at Legend Bank and within Grayson County and in surrounding areas."
Matt currently chairs the Legend Leaders Committee, which includes a group of Legend Bank employees that meet quarterly to discuss issues within the bank and how to handle them. This group has improved reporting and reduced our underwriting timeframe process and helped shift responsibilities to other areas of the bank. Matt is a board member for the Greater Texoma Utility Authority, this board seat is appointed by the Sherman City Council.  He is the treasurer elect and board member for the Grayson Crisis Center and he is the treasurer and on the executive board for the Sherman Education Foundation.  He is an Ambassador with the Sherman Chamber of Commerce.
"We congratulate Matt Brown for being named to this impressive list of community banking leaders," Mickey Faulconer, Legend Bank CEO said. "His leadership, knowledge of bank lending and interest in helping our bank meet the needs of our communities has impacted us both internally and in Sherman and surrounding communities. We're so pleased to see him receive the national recognition he deserves."
About Legend Bank
Legend Bank N.A. has 13 locations throughout North Texas with total assets of over $792 million. Legend Bank serves the people and businesses in and around Sherman, Whitesboro, Bonham, Cooper, Whitewright, Fort Worth, North Richland Hills, Bowie, Alvord, Decatur, Henrietta, Wichita Falls and Nocona and is one of the largest cattle lenders in North Texas. Legend Bank has proudly served its communities for 130 years and remains focused on the philosophy that banking is, first and foremost, about the people you serve and that serving others is a privilege. If you would like more information about Legend Bank N.A., visit www.legend.bank.
About ICBA
The Independent Community Bankers of America® creates and promotes an environment where community banks flourish. With more than 50,000 locations nationwide, community banks constitute 99 percent of all banks, employ nearly 750,000 Americans and are the only physical banking presence in one in three U.S. counties. Holding more than $5 trillion in assets, nearly $4 trillion in deposits, and more than $3.4 trillion in loans to consumers, small businesses and the agricultural community, community banks channel local deposits into the Main Streets and neighborhoods they serve, spurring job creation, fostering innovation and fueling their customers' dreams in communities throughout America. For more information, visit ICBA's website at www.icba.org. 
# # #