LEGEND BANK ANNOUNCES ORGANIZATIONAL CHANGES 
JANUARY 6, 2020/BOWIE, TX: Legend Bank, a community bank serving North Texans for 130 years, is pleased to announce organizational changes, including executive leadership promotions.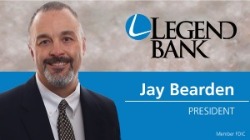 Jay Bearden has been promoted to President, after serving as the bank's Chief Lending Officer and Executive Vice President for over 10 years. Bearden, a banker since 1992, has worked for Legend Bank for over 20 years and also serves as a member of the Legend Bank Board of Directors.

"Jay has a unique understanding of the Legend Bank culture from his dedicated service in leadership roles with our bank," said Mickey Faulconer, Legend Bank CEO. "His extensive banking expertise and knowledge of our local communities make him the perfect fit as the President of Legend Bank."

Jay received his Bachelors of Business Administration in Finance and Management from Baylor University and he graduated from the Southwestern Graduate School of Banking at SMU in 2008 as Salutatorian of his class, with distinctions in Academics and Leadership. He is an active board member for the Fellowship of Christian Athletes in Northwest Texas and is a member and Deacon of First Baptist Church in Decatur, where he serves in many capacities. In his role as President, he will oversee all bank operations.
Jay moves into his new role as President with enthusiasm for the new structure and New Year, "What I love most about Legend Bank is that we are a family that cares for each other, our customers and our communities. This is a place where people want to come to work because employees know they are valued, their ideas and concerns are taken seriously, there are opportunities for personal and professional growth and we can have fun while still accomplishing our mission of serving the banking needs of our markets."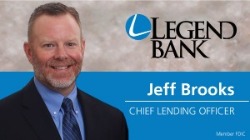 Jeff Brooks has been promoted to Chief Lending Officer from his previous role as Regional President over Whitesboro, Sherman, Bonham, Whitewright and Cooper. Jeff has been in banking for over 26 years and has been serving Legend Bank customers in Whitesboro and surrounding areas for 14 years. He graduated from Baylor University with a BBA in Accounting and completed the Texas Banking Association (TBA) Lending School. In his role as Chief Lending Officer, he will oversee commercial and mortgage lending for all 13 Legend Bank locations, as well as the bank's special assets.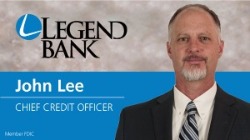 John Lee has been promoted to Chief Credit Officer and will oversee credit analysis, credit risk, consumer lending, mortgage loan processing and loan services. John received his Bachelor of Business Administration in Finance from the University of Texas and began his banking career as a National Bank Examiner with the Office of the Comptroller of the Currency (OCC) in 1990. He continued his career as a senior credit officer and commercial lender in multiple North Texas banks. He has been with Legend Bank for over 10 years overseeing the bank's credit risk, compliance/CRA/BSA and enterprise risk management functions. John is a 2003 graduate of the Southwestern Graduate School of Banking.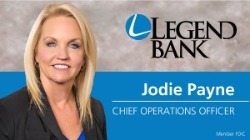 Jodie Payne has been named Chief Operations Officer. She has previously served as SVP, Deposit Operations for Legend Bank for the past five years. In her new role as Chief Operations Officer, she will be responsible for deposit operations, customer care, electronic banking, core systems, information technology and fraud loss prevention. Jodie began her banking career over 40 years ago as a teller at National Bank of Texas in Fort Worth. She quickly began managing operational areas and has spent the majority of her career overseeing deposit and account operations. Outside the office, Jodie is active in her community supporting various organizations and fundraising activities. She and her son are both cancer survivors, so she is especially passionate about funding cancer research that can advance life-saving treatments to make it possible for doctors to uncover the next big breakthrough.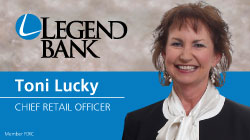 Toni Lucky's position has changed to Chief Retail Officer, after serving as Legend Bank's Chief Operations Officer for nine years. As the Chief Retail Officer, Toni will focus primarily on the retail side of the bank. She will oversee retail operations at all Legend Bank locations, plus all customer facing products and systems as well as training, marketing and treasury management sales. Toni is a graduate of University of Texas at Arlington and the Texas Bankers Association Management Development Program. She is passionate about supporting the Ronald McDonald House and spearheads Legend Bank's employee support of their Meals from the Heart program so that Legend bankers can provide meals for the families staying there.
"I'm confident the new executive leadership team, which also includes Todd McMurray, Chief Financial Officer, Bret Meekins, West Regional President and Mike Rigby, East Regional President, will guide Legend Bank and give us the structure we need to achieve our planned future growth," said Mickey Faulconer, CEO of Legend Bank. "Each one of our executive bankers have specialized banking experience in their areas and they have long-term tenure with Legend Bank, which will help maintain our family-like culture in serving our customers and employees. They all had important roles in the incredible year we had last year, growing our bank assets at a historic rate, adding new locations in three different regions of North Texas, increasing the number of customers we serve, expanding our team with new employees and introducing new products and services to make banking better and more convenient for our customers."

Legend Bank added three new locations in 2019, in North Richland Hills, Whitewright and Cooper. The bank is planning the opening of its full service Sherman location later this month to expand service to the Sherman and Denison communities. Legend Bank's assets grew from $697 million to over $769 million in the past year. This year Legend Bank celebrates its 130th anniversary.
About Legend Bank
Legend Bank N.A. has 13 locations throughout North Texas with total assets of over $769 million. Legend Bank serves the people and businesses in and around Bowie, Alvord, Decatur, Henrietta, Wichita Falls, Nocona, Whitesboro, Sherman, Bonham, Cooper, Whitewright, Fort Worth and North Richland Hills and is one of the largest cattle lenders in North Texas. Legend Bank has proudly served its communities for 130 years and remains focused on the philosophy that banking is, first and foremost, about the people you serve and that serving others is a privilege. 
— END —