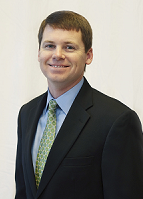 Legend Bank Announces New President For Sherman Loan Production Office

July 17, 2017/SHERMAN, TX: Legend Bank, a community bank serving commercial clients and consumers in North Texas for over 128 years, is pleased to announce the appointment of Matt Brown as president of the Sherman Loan Production Office. Brown will handle commercial real estate lending in Sherman and surrounding areas.

"Matt is an experienced commercial lender in the Sherman community and we are confident that his expertise will help us serve more commercial customers in this area", said Jeff Brooks, regional president and EVP, Legend Bank. "He will be a strong asset for the growth of Legend Bank as we plan our expansion in Sherman with our full-service branch coming in 2018."

Brown has over 14 years commercial lending experience, is a graduate of Stonier Graduate School of Banking and completed the Texas Bankers Association Management Development Program. He received his MBA from the University of North Texas and his BBA from Austin College. 

Prior to joining Legend Bank, Brown was Vice President for American Bank of Texas/First United Bank, covering the Sherman area. In addition to his banking experience, he is also heavily involved in the Sherman community through his role as an Ambassador for the Sherman Chamber of Commerce and as a member of the Grayson County Rotary Club. He has also served as a guest lecturer for the Austin College investment class. Brown and his wife Shannon of nine years live in Sherman with their 21-month-old daughter Rhyan and their four-year-old son Reid.

About Legend Bank

Legend Bank N.A. has ten locations throughout North Texas with total assets of over $609 million. Legend Bank serves the people and businesses in and around Sherman, Whitesboro, Bonham, Alvord, Bowie, Decatur, Fort Worth, Nocona, Henrietta and Wichita Falls and is one of the largest cattle lenders in North Texas. Legend Bank has proudly served its communities for over 128 years and remains focused on the philosophy that banking is, first and foremost, about the people you serve and that serving others is a privilege. If you would like more information about Legend Bank N.A., visit www.legend-bank.com.
- END -