We are excited to announce a new online and mobile banking experience is here! We know how important it is to have easy-to-use, convenient banking tools at your fingertips, so that's why we've introduced this new Online Banking & Mobile App.
New Online Banking & Mobile App
Browser Update
If you are using Internet Explorer as your web browser you may receive a message to update your browser for more security, speed and the best internet experience on our site. You'll need to update your browser before using our new Online Banking service. If you have any questions, please contact us.


Important Information

You will need to download our new mobile banking app now that we have transitioned to the new Mobile App.
You cannot upgrade your current app to our new mobile app.
The new app will be available in the Apple App Store and in the Google Play store. Just search for "Legend Bank Mobile App". 


You may have to search "New Legend Bank" in the Google Play store. Be sure to include the quotes as they improve the search response. The app is taking a little longer than expected to fully display on all Google Play and Android searches, but we hope this will be resolved quickly. We appreciate your patience.

 
It's possible the previous version may be displaying in the app as well, so please select the New Legend Bank Mobile app, shown below.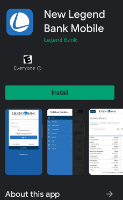 You can complete the first time login process and register your device from the new mobile app. You don't have to do your first time login on a desktop or laptop computer.
Please delete your previous Legend Bank app because it will no longer work for accessing your Legend Bank accounts.

You'll need to establish a new password the first time you log in to the new system on of after  August 18, 2020. Simply follow the on-screen instructions and you'll be accessing your account details in no time! 
Watch the How To video for First Time Login to make this easier. 

Online Bill Pay - i
f you are experiencing issues with your Bill Pay, please contact our Bill Pay Customer Service at 866-378-3534. 
Our new Online Bill Pay will have all of your payees as well as six months of bill pay history.
You will need to schedule your recurring payments again in the New Online Bill Pay to ensure they pay. We apologize for the inconvenience this may cause. 
You'll have access to many more E-Bills in our new system; however, you'll need to set-up your E-Bills again on the New Online Bill Pay.
For questions about Bill Pay access on your iPhone or iPad and information about compatible browsers, please click here.

If you had external transfers set up on your account in our previous Online Banking and Mobile App, you'll need to set these up again in the new system. We apologize for any inconvenience this may cause you. 

E-Statements and E-Documents
18 months of statement history converted to the new Online Banking and Mobile App for current E-Statement customers.
You will need to re-enroll in e-statements again in our new Online Banking.
You'll be able to go paperless on your account by with new e-delivery of your account notices and documents as well as your statements. 
When you first log-in to the New Online Banking & Mobile App, you'll need to accept the new E-Statement and Document Delivery Agreement to ensure you'll receive your statements and documents electronically.
When you sign up, all of your statements and account documents and notices will be delivered to the email address you have on file.

Bank by Phone - 833-681-3989
Our new Bank by Phone, automated line is available to you 24-hours a day, seven days a week at 833-681-3989.
You'll have to enter your account information and other verification information if it is your first time calling.

Our menu items changed:

Press 1 for account information and phone transfers

Press 1 for your checking or money market account, Press 2 for your savings account, Press 3 to login with your loan number
Follow the prompt to verify your account and identity.

Press 2 instructions on how to use the system
Press 3 for Branch and ATM locations
Press 4 for lost or stolen cards



Our new online banking has the ability to establish categories, but they may be different from the categories you had previously. 
Category information in the new Online Banking and Mobile App will be available for the last 90 days.

Security and access alerts transferred to the new Online Banking & Mobile App. 
If you had "Notify Me" alerts established now in Online Banking previously, like balance alerts, deposit alerts or when a loan payment is past due, you will need to set these up again in the new Online Banking & Mobile App.
If you received alerts via text and email, you will have to create new notification for each of these separately. We apologize for any inconvenience this may cause you. 

If you have a link to our current Online Banking saved in your favorites, you'll need to update it when our new Online Banking is available. You can still access Online Banking from any of the pages on our website by clicking on the Online Banking blue bar on the top right of our page (shown below).

Questions? We can help!
We would be glad to help you with any questions you may have about this transition. Please
contact us
for more details.
You can use our automated Bank by Phone, 24/7 by calling 833-681-3989.
Thank you for banking with us. It's our privilege to serve you.
Wireless carrier charges may apply.