Mobile Banking - Bank Anywhere, Anytime.
With our new Mobile App you can do almost all of your banking from your smart phone or tablet, including:
Deposit checks from your phone
Manage your account
Monitor your transactions
Manage your money
Receive account alerts
Control your debit card with Card Control in our mobile app
Pay your bills
Pay others 
Transfer money between your accounts
and more! 
Watch the Demo
Note: You will be linking to another website not owned or operated by Legend Bank. Legend Bank is not responsible for the availability or content of this website and does not represent either the linked website or you, should you enter into a transaction. We encourage you to review their privacy and security policies which may differ from Legend Bank.
Legend Pay

 

– the quick and easy way to send money to other Legend Bank customers! 
Card Control

 

– easily control, manage and protect your debit card with the Card Control link in the app. 
Cardswap

 

– Keep all of your accounts on the right card with Cardswap. You'll have a single spot to update your card on file for your subscription and streaming services, eCommerce merchants and more!
Go Paperless

 

– you can now receive your statements, account notices and documents electronically. 
E-Bills

 

– there are even more e-bills in the new mobile app. You can search for your billers and easily add them to Bill Pay. 

And More!

Wireless carrier charges may apply. Terms and conditions apply.

Mobile Deposit Endorsement Requirements
On July 1, 2018, the requirement for mobile deposit endorsements changed.
Your signature and "For Mobile Deposit Legend Bank" underneath is now required for all checks deposited with our mobile app.

Unfortunately, if you deposit a check through the mobile app without this endorsement, the check will be returned and you'll receive notification that your "deposit was rejected due to restrictive endorsement".
To help ensure that your checks are deposited conveniently and quickly using our mobile app, please use this new endorsement.

We apologize for any inconvenience this may cause you. This new endorsement requirement is a result of a banking regulation change.

Mobile Deposit
Skip the trip to the bank and deposit your checks electronically with our mobile app. You can deposit a check with a few taps in the mobile app! Just follow these simple steps in our mobile banking app.
Select "Menu" on the top left, tap Transactions > Deposit Check. 
Or you can use the More menu button in the top right and select Deposit A Check.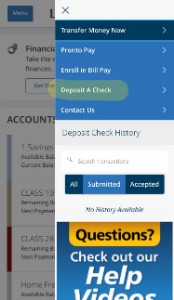 On the Deposit Check page, select the account, and enter the Amount. Follow the instructions on the screen.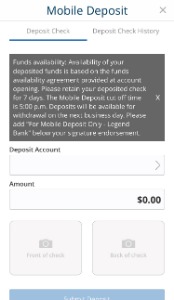 On the Mobile Deposit page, use your device to take a picture of the front and back of the check, then tap Submit Deposit. Guides on the screen help you align the check for the image.
When you take a picture of the back of the check, please remember to have your signature and "For Mobile Deposit Legend Bank" underneath as this is required for all checks deposited with our mobile app.

Tip: If the image of the check is blurry, you can tap Retake Front or Retake Back to take a new picture.
Tap Close.
The check appears in the Deposited Checks tab in the Activity Center.

Note: You may need to enroll in mobile remote deposit capture (mRDC) before you can deposit checks on a smartphone or tablet, depending on our financial institution's configuration.
Mobile Browser Access
If you don't have a smartphone, but would like to view your activity on your mobile device, visit www.legend.bank to view our website on your mobile device.
Contact us to enroll in Online Banking if you are not currently enrolled.
If you are already enrolled in Online Banking, click Online Banking and sign in to view your pages just as you would on a desktop PC.

*Wireless carrier charges may apply.