This step-by-step video will help you pay others with Pronto Pay on the new Online Banking and Mobile App. We hope you enjoy using our new Online Banking. 
Important Info to Know About Pronto Pay
Legend Bank Debit Card is Required: You must have a Legend Bank debit card to pay with Pronto Pay.
Shuffled for Security Purposes: When you enter your PIN, the numbers are shuffled for security purposes and will shuffle each time you enter a number.
Pronto Pay Fees: Legend Bank customers are reimbursed for fees charged for using Pronto Pay. 
Card Disabled: If you enter your PIN number incorrectly several times, your card will be disabled in Pronto Pay. Your debit card will work for other transactions; however it will be disabled in Pronto Pay until we reset it for you.  

Please call Customer Care and we can reset your card for you during business hours.
For security purposes, you will experience a brief delay before being able to use your card again in Pronto Pay after being reset.

Payment Timeframe: It can take two to four days for your payment to be received; however, the person you are sending money to should receive a notification immediately after you send your Pronto Pay. 
Recipient Alert Message: Some debit card issuers don't accept these types of payments and the person you are sending money to may receive a message like the one below. In this case, they will need to enter their checking account information to collect the money you are sending them. They can do this by clicking the "Receive with your checking account" link in the notification they receive. See below: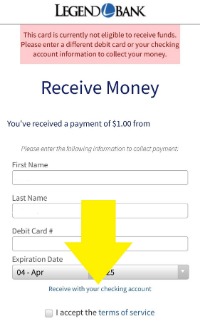 Personal Accounts Only: Pronto Pay can be used to send payments to commercial or business accounts, but you can only send payments from a personal account. This is not available on business accounts.

 
Please Note Regarding Your Browser
If you are currently using Internet Explorer (IE) as your web browser you may receive a message to update your browser for more security, speed and the best experience on our site. The new Online Banking is not supported on IE browsers. You can choose between Google Chrome, Mozilla Firefox or Microsoft Edge and easily download by clicking the links on the page that displays. We apologize for this inconvenience, but we want to make sure your connection is as secure as possible.  
Legend Bank's New Online Banking & Mobile App
Did you know that you can do almost all of your banking from your desktop, laptop, smart phone or tablet with our new Online Banking & Mobile Bank? You can:
Manage your accounts
Monitor your transactions
Manage your money
Receive account alerts
Control your debit card with CardControl in our mobile app
Pay your bills
Pay others
Deposit checks with our mobile app
Transfer money between your accounts
and more! 

What's New with Our Online & Mobile Banking
Pronto Pay – sending money to others is easy with new Pronto Pay! All you need is the recipient's name, mobile number or email address and the amount you want to send from your account and you can start sending money pronto! 
Legend Pay – the quick and easy way to send money to other Legend Bank customers! 
CardControl – easily control, manage and protect your debit card with the CardControl link in the app. 
Cardswap – Keep all of your accounts on the right card with Cardswap. You'll have a single spot to update your card on file for your subscription and streaming services, eCommerce merchants and more!
Go Paperless – you can now receive your statements, account notices and documents electronically. 
E-Bills – there are even more e-bills in the new mobile app. You can search for your billers and easily add them to Bill Pay. 
Biller Direct – Add your bills to easily stay on top of your payments, receive real-time updates on balances and payments. You can link your accounts and sync your data so all of your bills are in one place.
And More! 
Wireless carrier charges may apply.