We are proud of the convenient new ways you can bank with us by using our new Online Banking and Mobile App. We know you may have questions regarding the transition so we created this page to help answer your questions. If you want to learn more about our new Online Banking and Mobile App transition,
please click here
.
FAQ Quick Links - Click the category for your question to go directly to the FAQs.
Visit our
Video Resource Center
for step-by-step videos on how to use our new Online Banking & Mobile App. 
I received a Security Alert Notification regarding an invalid password for my login ID, like the one below, but I didn't enter the wrong password or have trouble accessing my account online. Should I be concerned?

If you are using a third party app that connects to your Legend Bank account using your login credentials, then this can happen when they attempt to connect to Legend Bank if their connection was recently restored or if you have recently changed your password. 
If you change your password for Online Banking and you don't update it in the third party service or app that you are using to connect to our Online Banking then when it attempts to connect it will cause a failed login attempt. 
If you haven't entered your login credentials in other apps for your finances and you receive this alert, please contact our Customer Care Agents for assistance. 
I am unable to see my check images when I click on a check in Online Banking. 

Check images are available for most customers. However, if you are unable to view your checks, please contact our Customer Care Agents and we can make any necessary adjustments to allow you to view your images. 
I have questions about my Bill Pay, whom should I call for support?

We are happy to help you with your questions. Please call our dedicated Bill Pay customer service line at 866-378-3534 for assistance.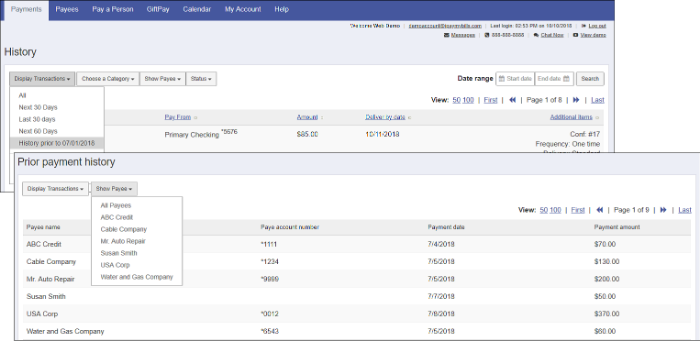 I am having trouble accessing Bill Pay on my iPad or iPhone. Could this be an issue with my software version?

Yes, for security purposes there are some limitations for accessing Bill Pay on iPads and iPhones. Your device must be updated to at least software version 13.1 to access Bill Pay through the app. 
If my device does not have software version 13.1, can I access Bill Pay without using the app?

Yes, if your device does not have this software version, you can access Bill Pay by using Safari. Just go to our website, www.legend.bank, login to Online Banking and then access Bill Pay. 
Please note, you will need to block all cookies, pop ups and prevent cross site tracking to allow access in this way. For specific instructions on how to do this, click here.
| iPhones | iPads |
| --- | --- |
| iPhone 11, iPhone 11 Pro and iPhone 11 Pro Max | iPad Pro 12.9-inch (4th generation, 3rd generation, 2nd generation and 1st generation) |
| iPhone X, iPhone Xs Max and iPhone Xr | iPad Pro 11-inch (1st generation, 2nd generation) |
| iPhone 8 and iPhone 8 Plus | iPad Pro 10.5-inch |
| iPhone 7 and iPhone 7 Plus | iPad Pro 9.7-inch  |
| iPhone 6s and iPhone 6s Plus | iPad (7th generation, 6th Generation and 5th generation) |
| iPhone SE | iPad mini (5th generation) |
| iPod touch (7th generation) | iPad mini 4 |
| | iPad Air (3rd generation) |
| | iPad Air 2 |
Some devices listed above may have older generations that are not compatible with iOS 13.0 or greater. Newly released Apple devices are compatible with iOS 13. Older devices than those listed above are only compatible with iOS 12. 

Which Windows versions are supported for Online Bill Pay on PCs?

Windows 7
Windows 8 and 8.1
Windows 10
Which browsers can I use to access Online Bill Pay on my Mac?

Google Chrome – Current and previous major releases
Firefox® – Current and previous major releases
Safari® – Current and previous major releases
Microsoft® Edge – Current and previous major releases
Which macOS versions are supported for Online Bill Pay on Macs?

High Sierra 10.13
Mojave 10.14
Catalina 10.15 
How can I see all of my recurring payments?

There are some future dated recurring payments listed on the right side of the Bill Pay home screen.
You can scroll to end of the payee list to view recurring payments. 
The "Pending" section will only show payments processing within a 45 day window. 
To see the full list of any future dated payments, scroll to the bottom of the payee list and click on the "view pending transactions" link.  
How can I learn more about using Online Bill Pay, like how to pay a bill, set up an eBill, set up payment reminders and bill pay alerts?

Click here for the Get Started Guide on Online Bill Pay. You can view screen shots and step-by-step instructions for Online Bill Pay.
What can impact my connection speed when using the new app?

Your connection speed and response times while using the app can be impacted by so many different factors, including the available memory on your phone, your phone model, operating system, network connection, data plan and volume of network traffic.
Your connection on your desktop or laptop can also be impacted by your internet connection, speed and network traffic.
What should I do if I am receiving a network connectivity error when I try to login using the Mobile App?

Please make sure that you are using our new Legend Bank Mobile App. If you are trying to use the previous app, you may receive this error. 

Additionally, please sure you have deleted the previous app from your device. 
Does FaceID work on the app?

Yes, you can use FaceID with our app.
What steps will I need to follow to log in for the first time on the new Online Banking & Mobile App?

We want to make this process as simple as possible for you. Watch our How To Video for your first time login and device registration. 
Do I have to complete my first time login on a desktop or laptop computer or can I use the mobile app on my smart phone or tablet?

You can complete the first time login process and register your device from the new mobile app, after you have downloaded it from the app store. You don't have to do your first time login on a desktop or laptop computer.
I received a message about my updating my browser when trying to access the new Online Banking, what does that mean? 

If you are currently using Internet Explorer (IE) as your web browser you may receive a message to update your browser for more security, speed and the best experience on our site.
The new Online Banking is not supported on IE browsers.
You can choose between Google Chrome, Mozilla Firefox or Microsoft Edge and easily download by clicking the links on the page that displays. We apologize for this inconvenience, but we want to make sure your connection is as secure as possible.  
What should I do if my phone numbers listed in Online Banking or on the Mobile App are not correct?

We can update your information in a variety of ways: you can send a secure message within Online Banking by clicking the message tab and the pencil icon, you can contact our Customer Care call center or you can tell a branch representative and we will have it updated at the end of each business day.

I have registered my device, but I keep getting the device registration request every time I login. What could be causing this issue?

Customers are experiencing this issue in the following situations:

If you are using Chrome as your browser. We recommend that you try accessing Online Banking with Edge and Firefox. Be sure to also check your default browser. If you find that it works when you change your browser, we recommend that you double check your default browser setting. If your browser reverts back to a different browser each time, this may cause you to receive the device registration again. 
If you have "block cookies" turned on, it will ask to re-register your device each time.
If you have cleared your browsing history since your last session, you will have to register your device again. 
After entering my login ID and password on the website, I received an error about a Fake Website that looks like the one below. Why did I receive this error and how can I log into my account?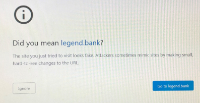 We have discovered that this is occurring because of a Google setting in Chrome. This setting can be changed; however we don't recommend adjusting it since it impacts access to other URLs as well.
We are researching solutions to fix this, but it may be a little while before those can be implemented due to potential impact on access to Online Banking.
In the meantime, you can click "ignore" and proceed to the site in Chrome or we recommend trying Microsoft Edge as an alternative browser. This has been successful for customers experiencing this issue. 
We apologize that you are experiencing this issue and appreciate your patience and understanding. 
How can I use Categories in the new Online Banking & Mobile App?

Your transactions for your internal accounts and linked accounts are automatically categorized to help you accurately monitor your spending and track your budgets.
You may choose to modify the automatically-selected category.
You can also modify transaction descriptions, split transactions across multiple categories, and create or edit new subcategories.
To learn how to categorize transactions, modify transaction descriptions and create or edit new subcategories, please click here. 
How do I enroll in text banking?

In the navigation menu, click or tap

 

Settings

 

>

 

Text Enrollment. The Text Enrollment page appears. 
Click or tap

 

On.
Enter the number that you want to enable for text banking in the SMS Text Number field.
Click or tap

 

Terms and Conditions

 

to read the terms and conditions in another tab.
Click or tap

 

Privacy Policy

 

and read the privacy policy in another tab.
Select the

 

Agree To Terms

 

check box.
Click or tap

 

Save.
In the

 

Enrollment Successful

 

message, do one of the following:

Click or tap

 

Close

 

to close the Text Banking settings.
Click or tap

 

Visit Preferences

 

to configure account preferences for text banking.
What number will text banking messages come from?

Text Banking Commands will come from 226563.
We recommend you save 226563 in your phone for easy access to text banking.
What are the commands I should use for text banking?

You can use the following commands to get the information you need using text banking.
| | | |
| --- | --- | --- |
| Function | Text Command | Description |
| Balance | BAL | Balance summary for accounts |
| History | HIST | Summary of recent transactions |
| Transfer | XFER | Transfer between accounts |
| List of Commands | LIST | List of available commands |
| | STOP | Stop receiving information via text |
What should I do after I sign up for text banking?

Send "LIST" to 226563 to receive the list of commands.

You will need to know the account nicknames you have set up for each account. 

 
What are the requirements for my new password with the new Online Banking & Mobile App?

Your new password will need to meet the following requirements: Include: 

8 - 15 Characters
A least one number
A minimum of one special character

Additionally you can't use the same password as your current password and you won't be able to use the same password as one of your last three passwords.
How can I save or print my E-Statements?

To save your statement, click print or the printer icon once your statement is open. Select "save as pdf" to save a pdf of your statement.

At this time you are unable to save your statement using the "download" or "save" button or icon in your browser. We are working to have this functionality available in the future. 


To print your statement, click print or the printer icon once your statement is open. Select the printer that you wish to use to print your statement. 
Will I need to accept to the E-Statement agreement again when I login to the new Online Banking & Mobile App?

Yes, the new E-Statement agreement includes information about receiving your account notices and documents electronically as well, so you will need to accept this agreement to receive your statements and documents electronically. 
Will I receive paper notices as well as electronic notices if I sign up for E-Statements & E-Documents?

Initially during our transition, you will receive paper and electronic notices. At some point following the transition to the new Online Banking & Mobile App you'll receive these documents electronically.

 



Will this change to a new Online Banking & Mobile App affect my accounts and my direct deposits?

No, all of your direct deposits for payroll, government issued payments or child support will continue as you currently have them established. This change is impacting the way you view your accounts online and through our mobile app. 
If I want to send money to another Legend Bank customer, do they have to use Online Banking?

Yes, Legend Pay is an option to send money to other Legend Bank Online Banking customers. It requires you to enter the email address and last four digits of the account number for the customer you'd like to pay.
I sent funds using Pronto Pay and the person I am paying received a message that said "This card is currently not eligible to receive funds. Please enter a different debit card or your checking account information to collect your money." Why did they get this message and what should they do to get my payment?

In this case, they will need to enter their checking account information to collect the money you are sending them rather than their debit card because some issuers don't accept these types of payments.

Pronto Pay can be used to send payments to commercial or business accounts, but you can only send payments from a personal account. This is not available on business accounts.